Why HiTRUST 3DS Cloud Service?
Cloud Service
On-Premises
Hardware
X
Customers need to prepare hardware that meets the specification
Implementation Period
Around 2-3 months
At least 6 months
Maintenance & Upgrade
By HiTRUST
By customers with assist of HiTRUST
(Additional fee may apply)
Certification
By HiTRUST
By customers with assist of HiTRUST
(Customers are responsible for certification fee charged by card schemes)
Quotation
Annual/Monthly fee and transaction fee
One time project
The operation system, hardware, and IDC are included in HiTRUST 3DS cloud package.

Latest 3-D Secure version support: HiTRUST provides professional technical support to bring the features of newly released 3-D Secure versions and card schemes to our clients.

Excellent cost-performance: Clients is only charged for annual/monthly fees and transaction fee, and HiTRUST is responsible for the upgrade and maintenance of 3DS system.
What is HiTRUST 3DS Cloud Service?
HiTRUST has successfully assisted most issuers and acquires in Greater China Area to adopt 3-D Secure with on-premise solution. We accumulate enough experiences and industry know-how on authentication for card-not-present (CNP) transactions.
HiTRUST 3DS Cloud Service has been launched, making 3-D Secure available for more global financial institutions. We offer fast access to cardholder authentication based on the latest 3DS protocol and guarantee the process complies with data security requirements. HiTRUST help our clients to be 3DS compliance as efficiently as possible.
HiTRUST 3DS Cloud is certified by Visa, Mastercard, JCB, CUP, American Express and Diners/Discover, supporting 3DS 1.0.2 and 3-D Secure 2.2. You can easily integrate with our system via the standard APIs to eliminate the costs of hardware and ease burden on IT staffs. HiTRUST's professional and experienced technical team will assist you throughout the onboarding process, including server integration, software configuration and testing phases.
Summary of HiTRUST 3DS Cloud Service:
Support 3-D Secure 2.2, which includes 3DS 1.0.2 and 3-D Secure 2.1 compatibility;

Support Visa, Mastercard, JCB, CUP, American Express and Diners/Discover;

Support newly released functions of the card schemes (e.g., Visa DAF);

Compliant with PCI-DSS and PCI-3DS

Veri-id, a comprehensive real-time anti-fraud system that filters out the suspected fraudulent transactions, allowing financial institutions to deliver frictionless and excellent shopping experience (strongly recommend);

Admin system to manage user permissions, monitor operational performance, and look into transaction details;

Offer 3DS testing environment to ensure system performance before going live.
Successful Cases
For now, these clients as follows below are using HiTRUST 3DS Cloud Service
• Red Dot Payment (Singapore)

Related Certificate
(1)EMVCo Product LOA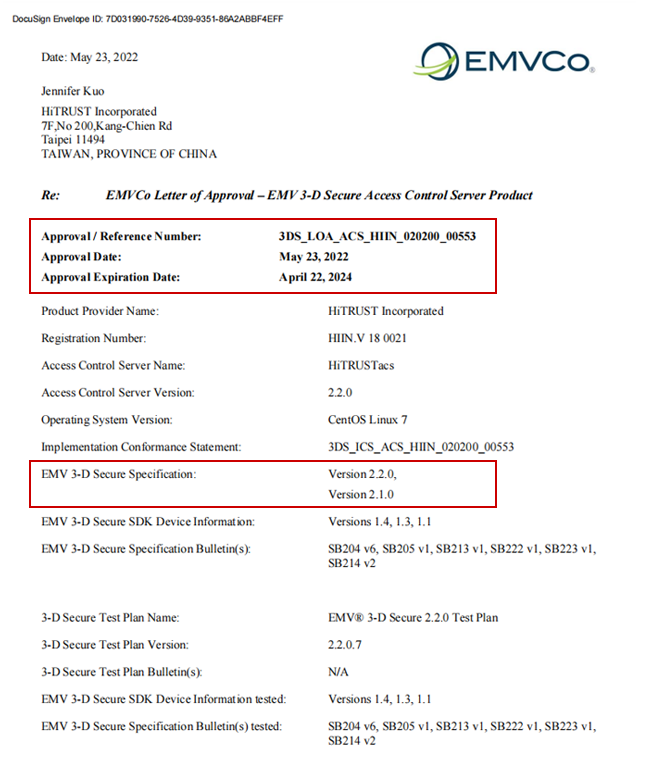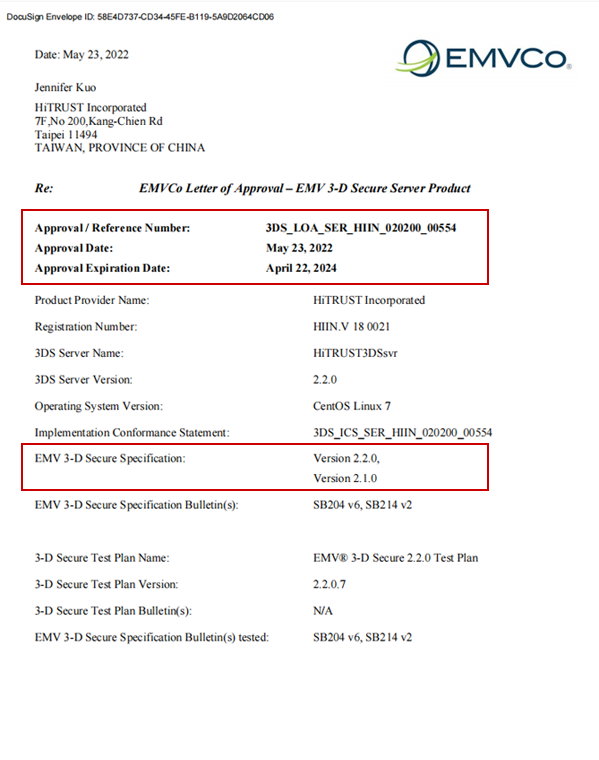 (2)PCI DSS and PCI 3DS certificate