When referring to fraud attacks, many experts use the term "attack surface" to discuss and elaborate on them. This term means the overall area within a company's structure, all the way from the make to the sales and personnel, where fraudsters could intercept and exploit. When comparing the attack surface of a traditional selling model to an omnichannel, the surface itself is observed to be a lot wider. Let's look at the examples.
Within model that is completely traditional and includes no digital channels, where transactions are made card-present, its attack surface spreads across:
1. The physical store and security
2. The in-store checkout process
To further elaborate, the two ways in which fraudsters could pull their attack within this environment is either to pilfer the goods or provide illegitimate payments at the counter. These two approaches to in-store fraud, overtime, have been effectively eliminated by close supervision by store security (tech or non-tech) and well-trained staff.
On the other hand, things get a lot more complicated in an omnichannel model. The attack surface within this environment is recognized to be across all of the channels, from manufacture to delivery. Below are some of the parts where the attack surface spans across:
1. All website components
2. The cybersecurity team and reliant software stack
3. The supply chain: stock and track
4. The physical store security
5. The store's staffing

and more…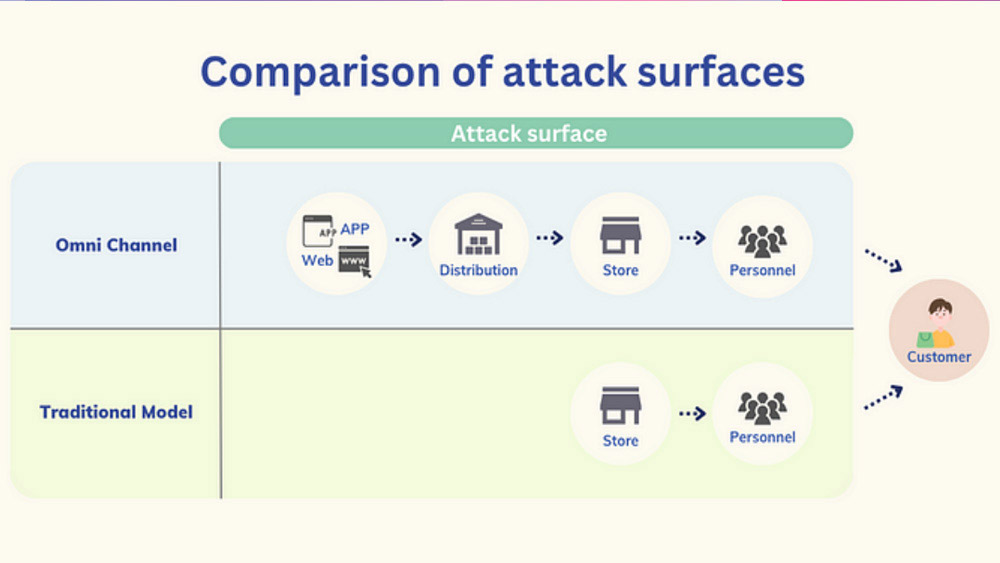 Comparison of an Omnichannel and Traditional Selling Model's attack surface