Transaction Fraud
When online shopping began to flourish, a handful of advanced payment methods were developed by financial institutions and payment service providers to meet the needs for contactless purchases. Online payment provides customers with ease and convenience, without having to pay in person or transfer at the ATM and the bank. However, this has given fraudsters some more space to roll out their advanced criminal practices.
Online transactions are usually problematic when a fraudster uses a fake credit card to pay for something over the internet, and below are the steps taken by the criminal to gain from their victims.
Step 1: Fraudster gets unauthorized access to a credit card number and uses it to pay for a purchase at an online store
Step 2: The online store processes the payment
Step 3: The legitimate cardholder notices a strange transaction in their account
Step 4: Cardholder contacts the bank to request for a chargeback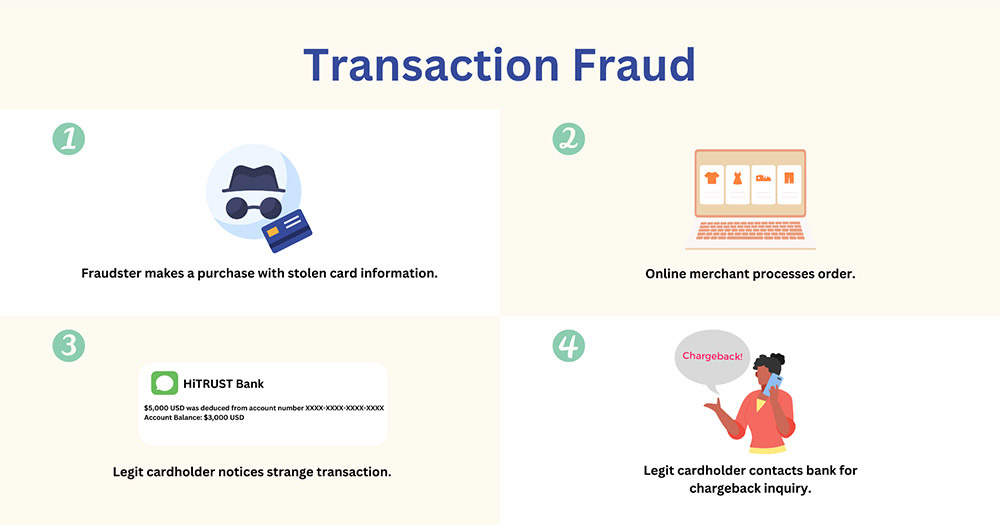 As far as we can see, the legitimate cardholder seems unharmed because they are most likely eligible for a chargeback and will be refunded for the transaction that they did not authorize. On the other hand, chargebacks are costly to process and are charged on a unit basis.
Without a doubt, the responsibility for chargebacks falls directly onto the online store, meaning that they would have to pay for the administration fees and provide the refund to the legitimate cardholder for the fraud. If frequently repeated, chargebacks will significantly damage the online store's finances and reputation.
From the fraudulent chargebacks, the online merchant will have to:
● Give refund for the payment
● Sacrifice a sale
● Pay for the administrative charge
Other than that, if it is found that too many chargebacks are filed at a particular merchant, the card network may decide to put the store on a high fraud target list. Within there, the fees payable for chargebacks are certainly higher and the merchant will be considered extremely vulnerable to fraud.
It is no secret that chargebacks are disputable, meaning that if the merchant desires, they can actually request to not pay for both the refund and the fees. Nevertheless, these disputes take a long time to be resolved and require provision of the evidence proving that the merchant is a victim of fraud, which could be a bit of a hassle.